Suzy
Clowning, Balloons, Face Painting
aka. "Sparkles"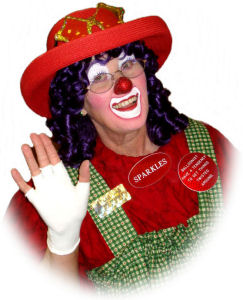 "Sparkles" loves balloons and can twist many different hats, toys and just plain FUN shapes! She would be happy to help you adopt a balloon animal. Sparkles can entertain with a "WHAT IS THIS?" event, where a child or adult is seated facing the rest of the guests and Sparkles stands behind him or her making a ballon that everyone else sees, but that will be a surprise for the balloon owner!
Sparkles has brightened up many party photos with her smiling face, and adds a "spark" to a fun take-home memory for all. Sparkles will work with you to keep the theme of your party and promote fun for everyone.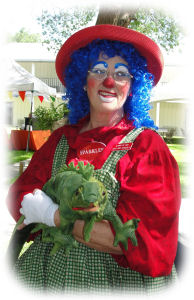 Suzy also offers Christian clowning with her "Twinkles" character. She combines balloons and fun stories with valuable lessons for children of all ages.
"Twinkles"
Photos of Suzy at Work: