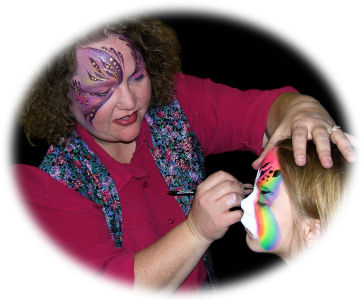 I have been drawing all kinds of things for as long as I can remember, but only occasionally, and until the summer of 2004 I had never before thought of painting on PEOPLE!
After talking with other party entertainers about face painting and cheek art, I decided to give it a try. I bought a small starter set from SNAZAROO and began offering cheek art as an add-on to our pony ride and petting zoo business. I got my first bookings in late 2004, and the response from children and parents was so overwhelmingly positive that I soon became hooked.
I bought every book and magazine I could get my hands on, and subscribed to all the mailing lists I could find that even mentioned face painting. I soon learned that cheek art is apparently not nearly as popular, nor does it command the respect that "real" face painting does. Somehow, "cheek art" brings to mind unskilled volunteers at church carnivals or town fairs, where full face and body painting has been elevated to a much higher rung on the art ladder.
At first I was put off by the efforts of my fellow artists to encourage me to experiment with full face painting. I truly enjoy the detail and precision required for impressive cheek art, and I had no interest in churning out "3-minute tiger faces" at parties. Being the ONLY advertised face painter I'm aware of in the Texas Panhandle, I could pretty much choose to do whatever I liked, but to my chagrin, my mailing list friends kept urging me to "just give it a try."
During my first year of cheek art, I often visited the SNAZAROO website to browse the hundreds of photographs of other artists' work, the vast majority of which is full face and/or body painting, and most of which I never dreamed I could duplicate, much less create anything of my own to compare.
Then, in November of 2005, for no reason I can fathom, something snapped inside me and suddenly I had an irresistable urge to TRY a full face. I decided that at my last booked pony party for the season, I would offer to paint for free, just so I'd have an opportunity to give the full face thing a shot. As it turned out, there were only five children at the party, two of which had no interest in being painted at all. The other three, all girls, wanted ONLY cheek art! I was crushed, but in that moment of disappointment I vowed to myself that from that day forward I would carry my painting kit with me at all times so that I would never miss an opportunity again.
A few days later, the day before Thanksgiving, a staff potluck gathering was scheduled at the office where I work. I knew there would be at least two or three kids there, so I made sure that my kit was in order and camera batteries were charged. I had four takers that day, three of which chose full face or mask designs. I finally had my opportunity, and with lots of time available, I was able to make the best of my leap into the world of full face painting. The day AFTER Thanksgiving, I was able to convince my sister-in-law to let me use her face as a canvas, which resulted in my very first original and entirely full face painting: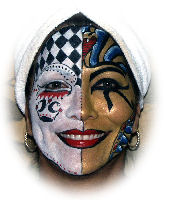 I do still enjoy my cheek art very much, but a new world has been revealed to me, and off I go to embrace it, with sponges and brushes in hand!